Table-mate Support
Contact Us
Should you have any questions about your order or our product, please contact us as we are here to help:
Table-Mate USA, LLC
Hours of Operation: 8AM-5PM EST, Monday through Friday.
Email: support@tablemate.com
Phone: (833) 825-6283
All emails or calls will be responded to within 24 hours of receipt during business hours. *If inquiring about an order, please include your order number and full name.
Thank You – We look forward to helping you!
General Inquiries
Please contact us at info@tablemate.com if you need assistance with any of the below:
Are you interested in placing an order for large quantities?
Are you seeking donated or discounted units?
Are you interested in being an approved wholesaler?
Are you looking to build a marketing or sales connection with our brand?
We look forward to hearing from you!
---
Shipping
General Policies
We are currently only shipping to the continental USA - Orders typically ship within 2 days upon receipt of order. Standard Delivery is usually 5-10 business days from date of shipment using standard ground service. The transit time indicated DOES NOT include weekends and holidays. Please understand carriers are working at max capacity at this time and expected deliveries are taking longer. We appreciate your patience during these unprecedented times.
Standard Rates
Product
Shipping Rate
Table-Mate II
$7.95

Table-Mate II 

PRO

$7.95

Table-Mate XL

$8.95

Table-Mate XL PRO 

$8.95

Table-Mate V

$9.95
LOST DELIVERY & DELIVERY REFUSAL
If your order is considered "lost" by the courier or delivered to the wrong location without correction, please contact our Customer Service team right away so we can arrange a replacement or issue a full refund, including all shipping charges, to the original payment method.
If you refuse delivery of an order arriving within the delivery grace period your account will be credited once the packages are returned to our warehouse and inspected, less applicable delivery charges to and from your destination.
---
Customer Satisfaction
1-YEAR UNCONDITIONAL WARRANTY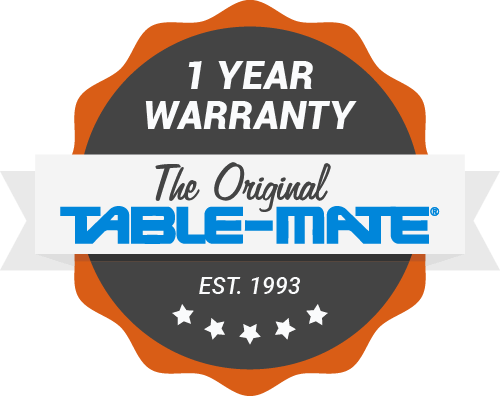 If you purchase a Table-Mate product and are not satisfied, you can return it within (30) days from your delivery arrival date for a refund excluding shipping charges. All returns must be authorized by our Customer Service team prior to being returned. You are responsible for the return shipping. Your credit card will be credited once an authorized Table-Mate USA, LLC representative receives the product.
If you are satisfied with your Table-Mate product but find issues with the materials or workmanship quality, please contact our Customer Service team. Our products are backed by a 1-year unconditional warranty and we will work with you to provide a positive solution.
If you purchase a Table-Mate product from an authorized 3rd party dealer and you are not satisfied, please work directly with that 3rd party dealer as their return and satisfaction polices will be applicable. Please note, our 1-year Unconditional Warranty is exclusive to customers who buy directly from us, Table-Mate USA, LLC .
Damages & Defects
Your shipment should be checked upon receipt. Any shortage or damage claim should be reported to our Customer Service team right away. Defective merchandise will be replaced with a new item, upon inspection of the defective merchandise.
RETURNS & EXCHANGES
All items considered for exchange or refund must be returned in "as new" condition, complete with all packaging materials. After 30 days merchandise is considered used and may not be considered for refund or credit.
All return and exchange requests must be requested and approved by contacting Customer Service. Returns that are received without prior authorization may not be refunded.
All returns are subject to inspection and Table-Mate USA, LLC reserves the right to refuse any merchandise which shows evidence of misuse or intentional damage.
Shipping, duty, brokerage and insurance charges are non-refundable; However, we will refund your original shipping cost if the return is a result of our error.
---
Frequently asked questions
Remove all pieces from the box and the protective packaging.
*Make sure you set aside the cupholder if you purchased a model that includes one as it can sometimes get mixed up in packaging when removing from box as it is a loose piece*
Simply follow the instructions below – No tools will be required for assembly.
Lay the tray top upside down on the floor.
Snap the "U" tube into the large clips on the underside of the tray. Ensure to line them up in the middle. There is a small dot on one side of the "U" tube that should be centered into one of the large clips for extra security.
Squeeze the smaller rod and snap into the large holes on the side of the "U" tube.
Snap the smaller rod into the hooks on the underside of the tray. (This will determine what tilt angle you want you tray table set at).
Have the "L" legs pointing down towards the ground (not towards the sky) and slide each "L" leg into the "U" tube by squeezing in the pins.
Line up the pins to the height you desire and make sure the pins fully pop / lock out in that desired position and are on the same spot on each "L" leg.
Sit the table up and from this position you can determine if you want to adjust the height or angle further.
For models with a cupholder: Slide out the cupholder piece from under the tray top and place the additional cupholder bottom piece down into the frame. To retract the cupholder, push the bottom up and slide back under the tray top.
To adjust the Table Height: Squeeze, slide and pop the pins on the "L" legs to the desired height location. There are six different holes to adjust the table to six different heights.
To adjust the Tilt Angle: Lift-up the tray top and move the small rod to one of the 3 hooks available. Make sure the rod is securely placed into both hooks.
There are two different ways to store your Table-Mate Adjustable Table:
Lowered Tray side table: Un-clip the rod so the tray top lowers all the way to the side. Slide the legs under the side of the furniture (chair / sofa / bed) so the table can be quickly accessed.
Folded table under furniture or stored away: Un-clip the tray top so it lays flat against the legs. Squeeze the pins on the "L" Legs and swivel them 90 degrees into a locked position. This fully folded position allows you to store the table under your furniture or place into a closet.
The Table-Mate is a multifunctional table that provides 18 tables in 1. There are 6 different height adjustments and 3 different tilt angles to choose from.
The table can swiftly slide over any surface with the pull of a finger. Its open base design can move around furniture and obstacles for close comfort convenience.
Engineered to be lightweight and easy to move yet strong enough to provide a suitable table many purposes.

While it may be wobble / flex some as you move around or when heavily loaded, this will not mitigate the functionality of the table.

The product has three main functions:

Flat or Angled surface area for eating, working, painting, reading – The possibilities are endless

Tilted back in an easel position for reading or crafting

Flat surface to hold elements such as computers, printers, flowerpots – Anything you need extra space to store*

Note: Table-Mate has been tested to hold up to 40lbs

CAUTION: Table-Mate is not designed for anyone to stand on, sit on or change babies on. We shall not be responsible for any injuries caused by using Table-Mate for these purposes.
Simply wipe clean with a mild solution of soap and water
---